Services
We provide all kinds of services adapted to the needs of each type of client, which include the following:
Safety harnesses in buses for children who weigh between 15-25 KG
A child restraint system that has been officially approved by the R44.04 worldwide, to transport children in the bus seats safely (Group II of between 15 kg and 25 kg). It is installed in 30 seconds: it has a fast buckle up and release harness device.  5 point child's safety harness with adjustable straps. Compatible with the 2 and 3 point seat belts. It can also be used in seats that don't have safety belts.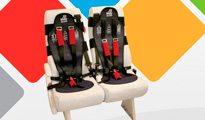 Transport for disabled passengers (Adapted Coaches)
At Bus Sigüenza we have a big fleet of vehicles that have been especially adapted for People with Reduced Mobility that are equipped with:
Lifting platforms for wheelchairs.
Toilets.
Wheelchair restraint attachment tracks for 1 to 19 chairs.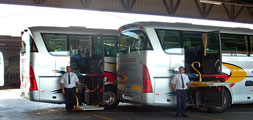 School transport (Schools, universities, nurseries, swimming pools...)
Design, preparation and implementation of the bus routes to take students back and forth from their school or university to their point of origin.
Our services are especially adapted to the needs of each school (number and location of the bus stops available according to requirements of the parents). We organise school trips, etc...
There is always a passenger assistant available with the school transport services, who has been properly trained and is highly qualified to look after the children.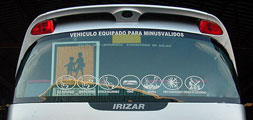 National and international tourist circuits
We have lots of experience in this type of transport. Our professional drivers are highly qualified and they have a great deal of knowledge of the national and international geography. Our buses are equipped with all the latest active and passive safety equipment.
We provide services for seniors, Sports Clubs, Associations, Field Trips, Weddings, Family Excursions, Tourist Groups, etc...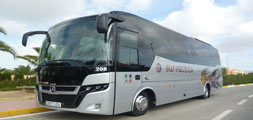 Local and provincial excursions
At Bus Sigüenza we organise local and provincial excursions to numerous tourist attractions in our region of the Vega Baja and the whole way along the Alicante coastline.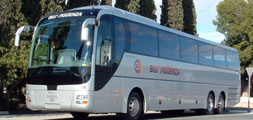 Congresses, trade fairs, conventions and meetings
The location of the Levante eastern region of Spain on the Mediterranean coast has made it a benchmark in terms of its hotel capacity –which is constantly growing- and because of this big companies, official institutions and organisations rely on us to organise their transport services for their congresses or conventions.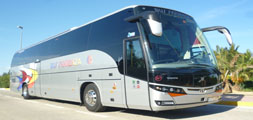 Graduation trips
Bus Sigüenza is a reference point when it comes to organising school outings or graduation trips for numerous primary and secondary education schools in the area of Orihuela and Vega Baja.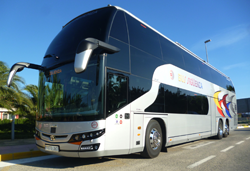 Hen parties
Enjoy your hen party with Bus Sigüenza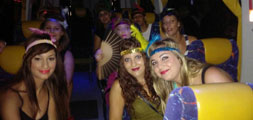 Sports team transport
Bus Sigüenza is one of the leading companies in providing transport services for sports teams. One of the best examples is the service it organises for the Spanish Second Division B football team Orihuela C.F., taking it all over the country. Our service was also used by the Volleyball Team of Club Atlético Voleibol Murcia in 2005.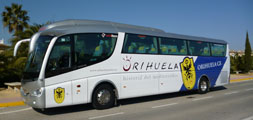 Weddings, lunches, celebrations, social and corporate events
We have a wedding and social celebrations transport service available, which includes a night service for hen and stag parties. We also have a service for corporate events and functions.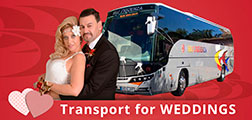 Airport transfer and taxi service
We take people to Airports, Hotels, Golf Courses, Sports Centres, Water Sport Activities.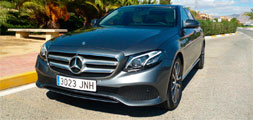 Regular and urban services
We provide a daily urban bus service in Orihuela and the surrounding area. The urban bus services include Orihuela-Hurchillo-Arneva, Orihuela-La Aparecida, Orihuela-Rincón de Bonanza, Orihuela-Molins, Orihuela-Tres Puentes. The regular bus services go to Orihuela (Abanilla, La Murada, Benferri, Virgen del Camino, La Matanza, Montepinar) and Cieza-Abanilla-Pinoso.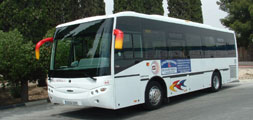 Trailer
Our Trailer Rental service is a great way to solve any problems of excess luggage, its ideal for long trips, music bands, bicycles, camping equipment, skiing equipment, among many other uses.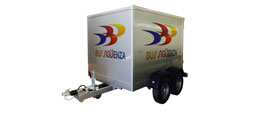 Deville Cadillac 1969.
Treat yourself to something very special
Because it's your day and you deserve the best, enjoy a unique car.